"In all of my 46 years, this was the first time I ever heard a Purim megillah reading," says Kiryat Tivon resident Elad Alon, one of 67,482 Israelis who participated in "Megillah BaKehilla," an initiative of Ohr Torah Stone's Yachad Program.
Through this year's partnership with the Tzohar Rabbinical Organization, the project – which literally means "Megillah in the community" – was able to reach even greater numbers of Israelis than ever before, in 402 locations from Katzrin in the Golan Heights to the southern tip of Eilat. "It was thrilling to sit in a packed auditorium with people from different parts of the city, each one with his own unique background, celebrating a narrative that we all share," says Alon.
"We learn from the mobility of the mishkan– the portable Tabernacle in the desert – that Judaism does not wait for Jews to come to it, but rather goes out to the Jewish people wherever they are," says Rabbi Shlomo Riskin. "This is why Yachad strives year-round to bring Judaism to the people wherever they may be, physically or spiritually. We take the Purim activities out of the synagogue and hold them in diverse venues like Community Centers, libraries and gymnasiums," he says. "We bring the traditions and teachings of Judaism to Jews who might not otherwise seek them out, in a way that promotes unity and understanding within our greater society."
Thirsty for Meaning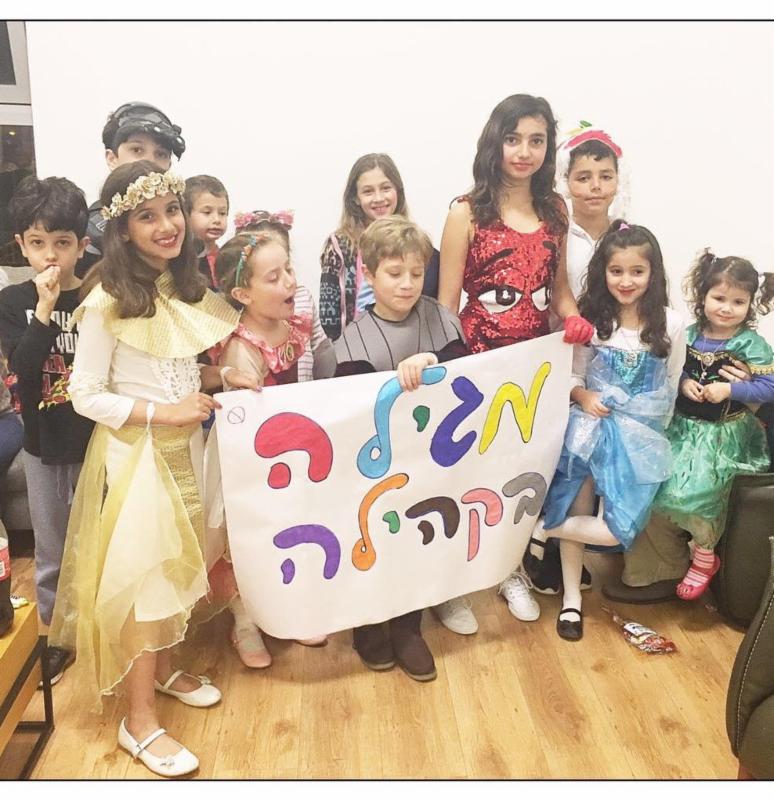 "Yachad's holiday activities have now become a tradition in our neighborhood," says East-Netanya local Dina Sharett. "After the huge success of our building's Chanukah candle-lighting in the lobby, we were thirsty for more. Galit [Hamber, the Yachad Jewish Cultural Facilitator in East Netanya] rose to the occasion, and organized a megilla reading for us, with explanations about what we were reading, and games and treats for the kids – just like on Chanukah," she says.
In fact, this year tens of buildings in Netanya's up-and-coming Ir Yamim neighborhood held "Megillah BaKehilla" events in the grandiose lobbies of the hi-rises, followed by singing and dancing alongside tables laden with traditional Purim foods, and crafts for the kids. "This is one of Netanya's most secular neighborhoods," affirms Yachad facilitator Hamber. "The fact that they are so interested in continuing the events is exciting to me, because it shows how thirsty they are to really make Judaism an important and relevant part of their lives."
Other Yachad facilitators also reported similar requests from locals to turn the communal holiday programming into a permanent tradition. "These programs really connect us to one another, and also connect us and our children to our heritage," says Michael Klein of Jerusalem's Gilo neighborhood.
"I always thought of religion as rigid and ritual-based, basically a series of rules telling me what I can and can't do. It's deeply satisfying now to embrace Judaism, to own it, and to make sure that my children appreciate the treasure in a way I never did."
A True and Lasting Impact
The "Light Brigade" represents another unique Yachad twist on celebration of the Jewish holidays. First launched by Yachad facilitators over Chanukah 2016, the Light Brigades are comprised of local youth who are brought together and trained by Yachad facilitators for a very special mission.
"We bring secular and religious teens together for joint, source-based study about Jewish values like tzedakah and chessed, then we send them out to exemplify those values through action," explains Acco's Yachad facilitator Amichai Cohen. "The teens brought megillah reading, mishlochei manot packages, and general holiday cheer to homebound seniors and hospital patients. Many of the individuals with whom we had connected on Chanukah were waiting by the door for us on Purim day," Cohen relates. "The youth volunteers got to see firsthand how their kind deeds made a true and lasting impact."
Moreover, adds Ashkelon facilitator Ilan Ivgi, the Light Brigade volunteers were exposed to another facet of Purim. "Whereas until now they associated Purim with crazy parties and alcohol consumption, they now relate to Purim as a holiday characterized by the Jewish value of giving. When they came to dance with the senior citizens – some with canes and some in wheelchairs – several of them had tears in their eyes."
Says Ivgi: "We often stuff our mishlochei manot with meaningless candy. But this was a mishloach of kindness, connection, and unity. It lasts forever – not only in the hearts of the recipients, but also in the souls of the teen volunteers."